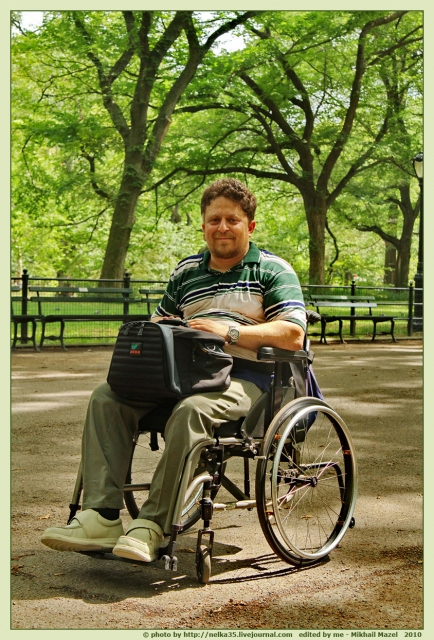 My name is Misha (Mikhail) Mazel.
I was born in Moscow, Russia (USSR) in April 1967. I graduated mathematical school and technical university but... now I'm a lyrical poet and photographer.
I liked to travel through former USSR, I liked canoe trips, but unfortunately because of an accident I lost the ability to work and became wheelchair bound in 1995. Because of this my family emigrated to New York in 1997. I'm a New Yorker now. (Really I live in Jersey City and like my town, but I'm a New Yorker and I cannot imagine myself in another city or town of USA).
I started to write poetry late. I was a 20 year old student when I wrote my first poem. I also started shooting pictures professionally after moving to USA (but on an amateur level I started at age 13).
I'm a vice-president of Russian Writers' Club of New York, editor and designer of our websites and Periodic Almanac. I also do a lot of web projects connected with Russian Arts, Culture, Music, Poetry and Emigration. If I started as a scientist, now I became a pure humanitarian.
On this site I'd like to show you 25 selected photo-artworks taken over 8 years (2002 - 2010). I tried to select them across all the range of my photo-interests. Please remember: first of all I'm poet (although I write poems only in Russian) and my photo language, of course, is influenced by this, but unlike my real poems my pictures are accessible for multi-language viewers. Like doctors, I follow in my Art Hippocratic Oath: "Do Not Harm" - and I try to bring people hope. Maybe my poems or pictures are sad sometimes, but I try to make my sad feelings bring Light, and bring not despair, but a wish to think.
I'll try to tell you a little about my ways in Photo Art in "Genres" and "Styles". Please do not hesitate to send me your feedback. This is very pleasant and important to me.
Be happy, lucky and merry!
Sincerely, Misha Mazel.