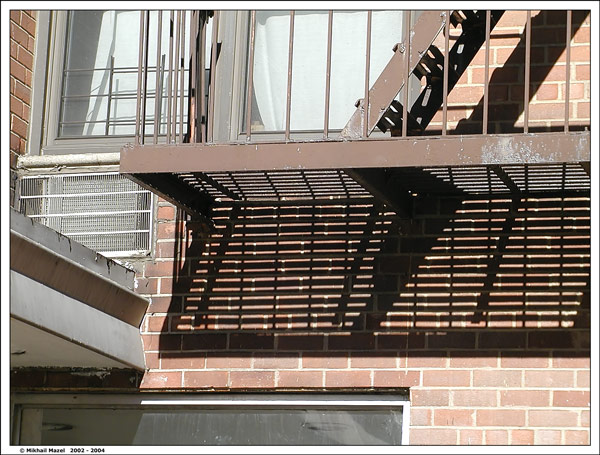 I like harmony...
Yes. I like harmony... This sounds strange... Any artist, poet, musician could like IT (instead of cases of underground "cacophony" or "absurdity", but I'm afraid that even in disharmony we can find ONE).
In other words, I try to show that nothing is simple (yes, "nothing is simple", and this is after my own words that my "motto" is - "Be simpler"...)
I like shadows on brick walls that tell us that the Sun is here behind us, and is moving in sky. I like this but this is not simple... only lucky moments when "conversations" between objects and the shadows they throw could be "caught".
I like just scenes of nature: beauty of the simple nature. As a Poet and a Writer... I like "story" in pictures: for example, I see "a Crowd" before a crossing in a simple group of flowers...
But whatever I shoot I try to carry over curiosity, enjoyment, hope, and "reverie".
I'm a city dweller. I lived 30 years in Moscow and now, for already 13 years, in New York. I like the "craziness" of the Big Cities: crowds, car "herds", noise, ENERGY... I like skyscrapers and old fashion "palaces" or "family houses"...
I like many things and genres of the Art. It is easier to tell what I do not like. I don't like "genre" because mostly genre art is negative... I won't take pictures of disasters, lonely people, homelessness, old people in their infirmity. Of course, this is "true to life", but some photographers like to concentrate on it and I'm afraid to be carried away in this. So I do "genre", but not often.
I do not take many portraits, but I like to do it - usually I do it suddenly, like snapshots, not in a studio environment. Just in the "real life" during conversation, parties or art-meetings.
And I don't make "staged shots". Truly - I can't work in studio with the lights; I never work in a studio.
I like close-up shots, telephoto, and panoramic works. But I want to tell about this with more details in "Styles".
As I said - I'm a poet and my poetic vision, of course, influences my pictures (the reverse is true as well). Because of this I'm not just a reporter... I hope... Maybe I think too much about myself... I try to invoke wishes and thoughts in my viewers...